National Day of Civic Hacking 2015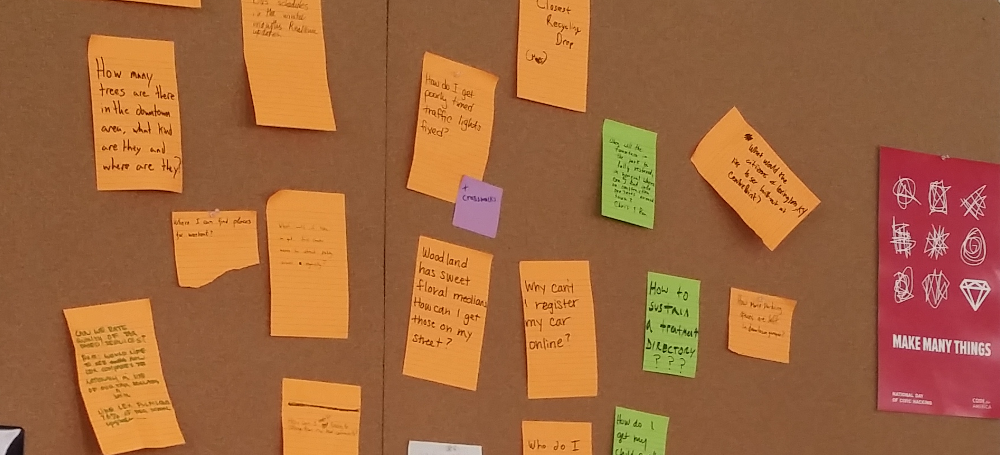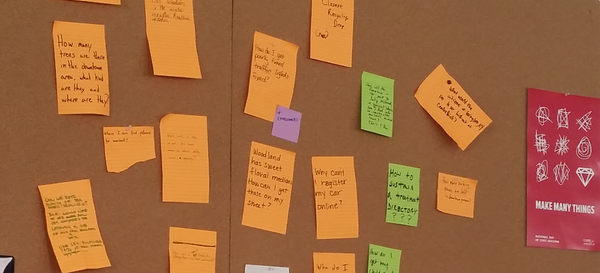 June 6th was the third annual National Day of Civic Hacking, organized by Code for America. The awesome folks with Open Lexington and Make Time put together a great event in Lexington this year.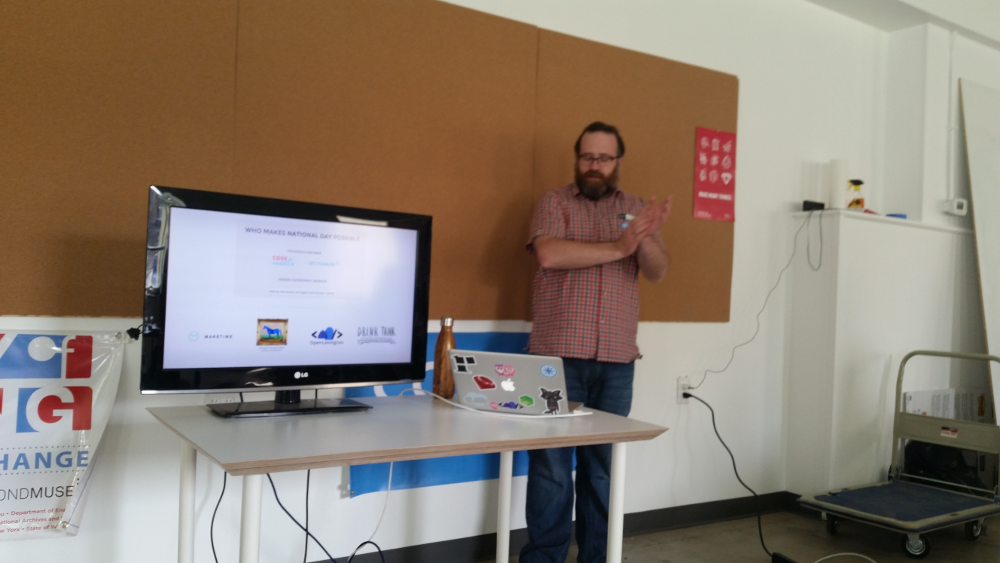 I know many people think hacking means breaking into computers, but for us geeks it simply means playing with systems (of all kinds), improving them or simply making them behave in new and surprising ways. The National Day of Civic Hacking takes place in cities all across the country, bringing communities together to discuss ways to make the systems of our cities work better for their people.
Represented in Lexington this year were of course software developers (from just about every dev shop in Lexington), as well as city employees and Geographic Information Systems (GIS) specialists. We were also lucky to have Kate and Annie from Drink Tank in Chicago who acted as emcees and did a great job getting everyone into the collaborative spirit.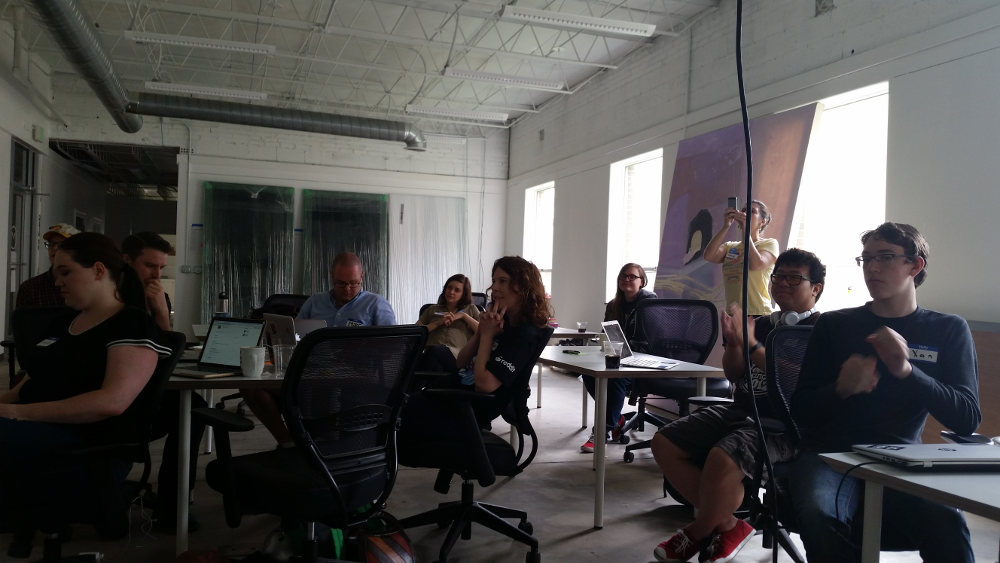 As a first task we were asked to think of things we would like to ask our city, but do not know where to go for the answer. One question I found particular pertinent was "How to sustain a treatment directory?" The question of sustainability should be at the heart of any voluntary endeavor and came up many times in other contexts throughout the day. In the end we chose five questions to concentrate on.
Hot to sustain a treatment directory?
Where can I find events as new resident of Lexington?
How many parking spots are left in the city?
Who do I talk to about blank?
How many tress are there in down town Lexintong and where are they?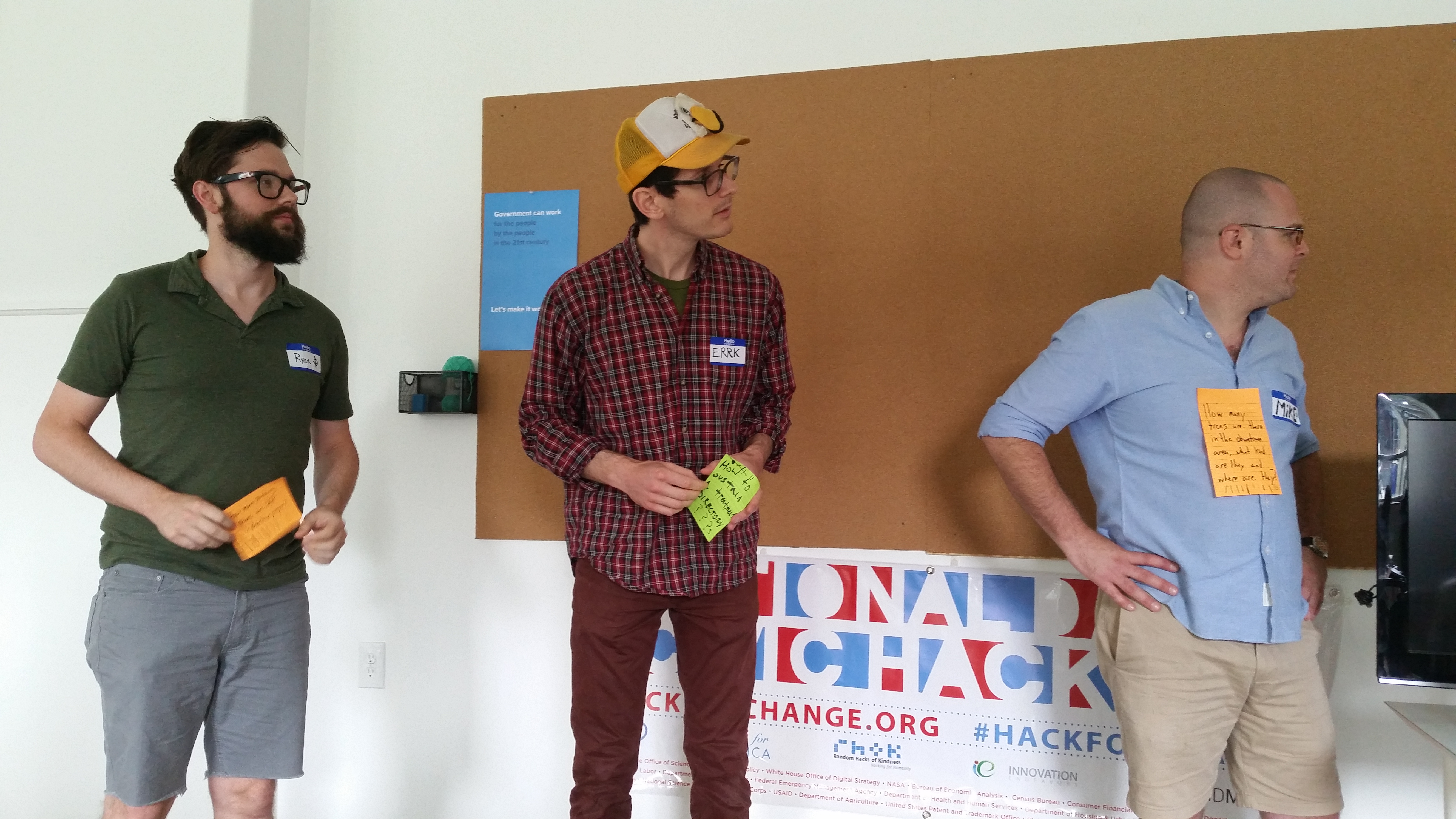 We broke into teams to delve deeper on each topic.
I worked on the question, "How many tress are there in down town Lexington and where are they?" This may seem like a silly question, but I have recently come to the realization that I do not know what the hell anything around me is. And I say "is" because if you do not know what something is even called what do you really know about it? I know it's critical for us to understand and care for our environment yet I have been missing out on the treasure trove of language and knowledge concerning the plants and animals that makeup my everyday life. Sadly, I don't think I'm alone in this. Getting out and Geo-tagging some trees seemed like a good way to encourage myself and others to rediscover some of this terminology.
In addition to teaching me the difference between a maple and an oak our group discussed how knowing the distribution and condition of trees might help us understand the micro-climate, or give tourists something to do after the race track. I know I wouldn't mind sipping bourbon under Lexington's oldest Oak tree.
After a lot of brain storming, some frantic coding, and a nice fieldtrip to the park. We got back together with the other groups to present solutions.
In our case we wound up with a [github] (https://github.com/openlexington/TreeJunk) containing the rudiments of a "tree grabber", a form which enables volunteer tree junkies or minions of cub-scouts to tag the trees on their daily route. So next time you're thinking about playing Ingress, why not tag a tree instead?
I'm not sure if "tree grabbing" will be the next big thing and to get it their this project still needs a lot of work, but it wasn't bad output for a single afternoon. I intend to follow up on the project and contribute more code, but at the end of the day the best part of the event was getting togeather with a group of smart people and putting ourselves in the place of citizens. This is something I certainly look forward to seeing where some of the other projects started here go in the near future.
If that wasn't enough to get you out to the next hackathon we closed with beers at Michler's new beer garden